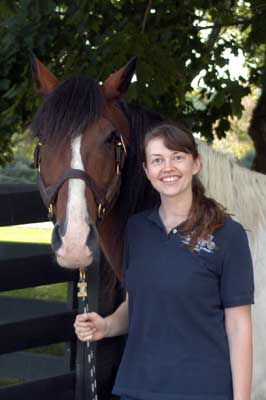 Lydia Mudd, DVM, CF
Equine Veterinarian
Associate Veterinarian 2016
University of Illinois Doctor of Veterinary Medicine; University of Illinois BS Animal Science and Chemistry
Clinical Interests: Equine Podiatry, Ophthalmology, Internal Medicine
Dr. Lydia Mudd grew up on a small farm in Southern Illinois and has always had a love for animals. When she was 10, she used her life savings to buy her first pony, Pokie, whom she owned for 22 years until she passed away in her mid-30's.
Dr Lydia has competed in both English and Western disciplines, and spent summers working as an assistant manager at a stables that offered riding lessons and therapeutic riding programs. During high school, Dr. Lydia began working at a mixed animal clinic, and quickly fell in love with veterinary medicine.
She graduated magna cum laude from Southern Illinois University with a B.S. in Animal Science and Chemistry. She then attended the University of Illinois College of Veterinary Medicine, and graduated in 2014 with recognition from the Phi Zeta Veterinary Honor Society. Dr Lydia went on to complete a 1-year Equine Field Service internship at the Virginia-Maryland College of Veterinary Medicine, and was then invited to stay on within the department as a locum clinical instructor.
Dr. Lydia enjoys all aspects of equine practice, but has a special interest in podiatry, ophthalmology, and internal medicine. She completed a 6-week course at Five-Star Horseshoeing School to further her podiatry knowledge and has also earned the title of a Certified Farrier (CF) through the American Farrier's Association.
Dr. Mudd and her husband, Levi, both enjoy traveling, hiking, horseback riding, and cooking.