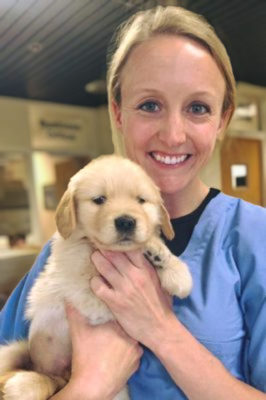 Katie Hornberger, DVM, DACT
Equine, Canine & Feline Reproduction Veterinarian
Associate Veterinarian 2017
Purdue University Doctor of Veterinary Medicine; Purdue University BS Animal Science; Diplomate American College of Theriogenology
Clinical Interests: Feline Reproduction, Canine Reproduction, Equine Reproduction
Dr Katie Hornberger grew up in Terre Haute, Indiana. Her strong love for animals started when she was a little girl. At 9 years old, her parents won a horse riding lesson. Since that day, Katie fell hard for horses. She continued western riding lessons and soon knew she would be a veterinarian.
Dr. Katie graduated with a Bachelor of Sciences in Animal Science from Purdue University in 2009 and continued to complete her Doctorate of Veterinary Medicine from Purdue University in 2013. Upon graduation, Dr. Katie did a 1 year equine and small animal internship near Cincinnati, Ohio. Following her internship, she pursued a 3 year Theriogenology residency at Oklahoma State University, where she addressed the reproductive needs of all species.
During her residency, Dr. Katie had the opportunity to acquire advanced reproductive skills including equine embryo transfer, oocyte aspiration, semen processing and freezing, high risk pregnancy management, and various other techniques. In addition, she had the opportunity to acquire skills in canine breeding management, trans-cervical artificial insemination, semen processing and freezing, medical pyometra management, c-section planning, and other various skills.
Dr. Katie enjoys all aspects of veterinary medicine but has a special interest in both equine and small animal reproduction and neonatal care.
In her free time, Katie enjoys spending time with her husband, riding her mare, hiking with her dogs, and baking.