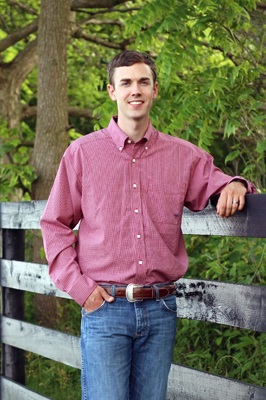 Jake Jensen, DVM, cVMA, cVSMT
Equine Veterinarian
Practice Owner, 2021
Associate Veterinarian 2015
Purdue University Doctor of Veterinary Medicine; Purdue University BS Biology
Clinical Interests: Equine Integrative Sports Medicine & Lameness
Dr. Jake Jensen grew up in Northwest Indiana and developed an interest in veterinary medicine at a very young age. He attended Purdue University for both his undergraduate and professional studies, earning a B. S. in Biology in 2010 and a Doctorate in Veterinary Medicine in 2014.
During his time at Purdue, Dr. Jensen acquired diverse veterinary skills in both equine and small animal studies, competed on the Purdue Horse Judging Team and Triathlon Club, volunteered at a working draft horse farm, and traveled to Mongolia on a veterinary mission trip.
Following graduation, Dr. Jensen completed a one year internship at Idaho Equine Hospital. During this internship, Dr. Jensen gained extensive experience in equine sports medicine, lameness, and surgery of western performance and sport horses.
Dr. Jensen has also completed certifications in Veterinary Medical Acupuncture and Veterinary Spinal Manipulative Therapy (sometimes referred to as "animal chiropractic"), and is a member of the College of Animal Chiropractors. Dr. Jensen's primary interests include integrative sports medicine, regenerative therapies, and ultrasonography.
Outside of work, Dr. Jensen enjoys spending time with his wife, Lindsay, his 2 daughters, being outdoors, and being involved with his church.