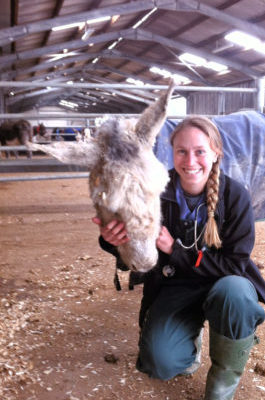 Shannon McGill, DVM, CVSMT
Equine & Small Animal Veterinarian
Associate Veterinarian, 2021
University of Illinois Doctor of Veterinary Medicine; Miami University, BA Biology, Environmental Science, & Spanish
Clinical Interests: Equine, Veterinary Spinal Manipulation Therapy for small animals and equine
Dr. Shannon McGill graduated from the University of Illinois as a Doctor of Veterinary Medicine in 2013. She was recognized by Phi Zeta with the Honorary Society of Veterinary Medicine for her Excellence and Scholarship in Research. Clinical Interests include equine ambulatory care, small animal surgery and dental work, and Veterinary Spinal Manipulation Therapy for small animals and equine.
Dr. Shannon McGill brings with her a well-developed and extensive skill set. She received her DVM from the University of Illinois after graduating from Miami University in Oxford, Ohio. In addition to her intensive schooling, she completed an Equine Rotating Internship at University of Illinois where she was able to focus on equine and large animal medicine, surgery, and critical care. In 2016, she completed her veterinary spinal manipulation therapy coursework at The Healing Oasis in Sturtevant, Wisconsin.
In 2021, Dr. McGill was awarded the PATH Intl. Region 6 Veterinarian of the Year.  Outside of work, Shannon enjoys travelling, skiing, riding and competing with her horses Brewer & Mikey. 
Dr. McGill's passion for veterinary medicine is contagious. We are thrilled she's a team member of JVC.