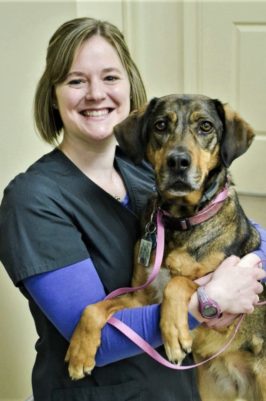 Christine Inman, DVM
Canine & Feline Veterinarian
Associate Veterinarian 2019
Purdue University Doctor of Veterinary Medicine; Purdue University BS Animal Science
Clinical Interests: Small Animal Medicine
Dr. Christine Inman grew up in a small town in west central Indiana, making her decision to become a veterinarian after a school project in the 5th grade.
While earning her B.S. in Animal Science, Dr. Christine was also a member of the Purdue Women's Swimming and Diving team, during which time she was awarded Academic All Big Ten accolades and was one of the team captains her junior and senior year. After graduating in 2010, she went on to complete her Doctorate of Veterinary Medicine degree from Purdue in 2014.
While in veterinary school, she was very involved with the Christian Veterinary Fellowship and participated on a mission trip to Nicaragua. She began her career in west central Indiana in a mixed animal practice and after several years, transitioned to full-time small animal work.
Dr. Christine has broad interests in veterinary medicine and surgery and is a member of the IVMA and AVMA.
In her free time, she enjoys hiking with her dog, riding her horse, camping, and curling up on the couch with her 2 cats.